Japan Rail Pass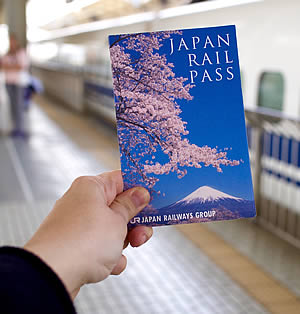 The Japan Rail Pass offers unlimited travel on the JR Railway( including bullet Trains), selected buses, and selected ferries for overseas visitors.
It is highly recommended for visitors to Japan who plan on making multiple trips within Japan and represents incredible value not available to Japanese commuters – eg a single return trip from Tokyo to Kyoto will cost around the same price as a 7 day Japan Rail Pass.
Choose from 7-day, 14-day, and 21-day Passes available with 2 Classes: Ordinary (Standard) and Green (Superior).
The JR Pass is available only to overseas visitors that enter Japan as a Temporary Visitor. This includes sightseeing, visiting relatives, inspection tours, conferences and meetings or other activities during a short stay in Japan.
An "Exchange Order" for the JR Pass must be purchased outside of Japan.
I just wanted to let you know that the Rail Passes arrived first thing this morning, Thank You Thank You Thank You for organizing that so quickly for my daughter! We were in a small panic once we learnt about the high cost of travel within Japan! This has taken one huge load of worry off her mind, and we really appreciate it. Thanks so much, you can count on being my first call for any future holidays to Japan, I only wish I had come across your business when we first started planning it a few weeks ago!
Valid Services
Unlimited travel on local, limited express, express trains including Shinkansens, buses and ferry boats of the following:
Railways
All JR Group Railways (JR Hokkaido, JR East, JR Central, JR West, JR Shikoku, and JR Kyushu lines) (with some exceptions) including:
Shinkansen bullet trains (except Nozomi and Mizuho trains)
Limited express trains
Express trains
Rapid or local trains
Tokyo monorail
Aoimori Railway (some area excluded)
Buses
Local lines of JR bus companies (excluding express bus routes and some local lines) including:
JR Hokkaido Bus
JR Bus Tohoku
JR Bus Kanto
JR Tokai Bus
West Japan JR Bus
Chugoku JR Bus
JR Kyushu Bus
Ferry
Note:
The JAPAN RAIL PASS is not valid for any seats, reserved or non-reserved, on "NOZOMI" and "MIZUHO" trains on the Tokaido, Sanyo and Kyushu Shinkansen lines. (The pass holders must take "HIKARI," "SAKURA," "KODAMA," or "TSUBAME" trains.) If you use a "NOZOMI" or "MIZUHO" train, you must pay the basic fare and the limited express charge, and for a Green Car the Green Car surcharge.
If you use the GranClass car of the Tohoku Shinkansen, you must pay the limited express charge and the GranClass car surcharge.
Passengers using JR trains on non-JR lines must pay additional fares and charges for sections traveled on such lines.
Some JR trains use the lines of private railways for direct services.
Valid Periods
The validity period of a JAPAN RAIL PASS is the consecutive 7, 14, or 21 days beginning on the date the PASS is first used. Once the pass has a starting date written on it, the date cannot be changed.
The Exchange Order must be redeemed for a JAPAN RAIL PASS within three months of Exchange Order issuance.
Once exchanged, the JAPAN RAIL PASS will expire:
after the PASS valid period (7, 14 or 21 days from the first day used) OR
after one month from the PASS issuance
Japan Rail Pass cannot be purchased in Japan.
You must purchase an Exchange Order before leaving Australia and receive a Japan Rail Pass in Japan. Please be aware that an Exchange Order cannot be used to travel on JR lines.Purchasing through Japan Holidays

Step 1. Purchase an Exchange Order from Japan Holidays providing your name as it appears on your Passport, date of travel, intended start date of using the Pass and the type of Pass you would like to purchase. This can be done through online booking form or on the phone.

Step 2. After arriving in Japan, present the Exchange Order along with your passport at a Japan Rail Pass Exchange Office in an applicable JR station.
You will be asked to fill in a short application form and to show your passport with the Temporary Visitor stamp/sticker you received when entering Japan. You will receive your JR EAST PASS after confirmation of eligibility.

The Exchange Order must be redeemed for a JAPAN RAIL PASS within three months of Exchange Order issuance. For example, an Exchange Order was issued on 15th April must be redeemed by 14th July.
The JAPAN RAIL PASS must be used within one month of issuance / exchange.

Prices

Green
Ordinary
Adult
Child
Adult
Child
7 Days
$534
$267
$400
$200
14 Days
$865
$432
$637
$319
21 Days
$1124
$562
$815
$408

*Green: First Class Reserved Car
*Ordinary: 2nd Class or Economy Reserved Car
*Child Fare: age from 6 to 11.
*Express Post postal fee of $7.00 applies when delivery is required.
*Credit card surcharge of 2% applies  for Visa and Mastercard and 3% surcharge applies to AMEX.

PRICES ARE SUBJECT TO CHANGE DEPENDING ON EXCHANGE RATES. PLEASE CHECK WITH JAPAN HOLIDAYS FOR CURRENT PRICE.

Other Passes are also available:

JR EAST PASS (flexible 5-day)
JR HOKKAIDO RAIL PASS (3-7 day, 4-day flexi)
JR TAKAYAMA-HOKURIKU AREA TOURIST PASS (3 or 5 day)
ALL SHIKOKU RAIL PASS (3-7 day)
KAGAWA MINI RAIL & FERRY PASS (2 day)
ALL AREA KYUSHU PASS (3 or 5 day)
JR NORTHERN KYUSHU RAIL PASS (3-day or 5-day)
JR SOUTHERN KYUSHU RAIL PASS (3-day)
Eligibility
The JAPAN RAIL PASS is available exclusively for visitors from abroad who enter Japan under the entry status of "Temporary Visitor". The following conditions must be met for purchase and use.
To purchase Japan Rail Pass, you must be either:
1. a foreign tourist visiting Japan from abroad for sight-seeing, under the entry status of "temporary visitor."
"Temporary Visitor" entry status, according to Japanese Immigration Law, allows a stay in Japan of 15 days or 90 days for "sight-seeing, etc." If you apply for a "stay for sight-seeing" when you enter Japan, entry personnel will stamp your passport as "Temporary Visitor," as shown below. Only persons who have a passport bearing this stamp can use a JAPAN RAIL PASS.
2. a Japanese national living in a country other than Japan (having entered the country on a Japanese passport),
a. who has the right of permanent residence in that country
b. who is married to a non-Japanese residing in a country other than Japan.
Note: Present the following documentation along with your Japanese passport when you purchase the Exchange Order and when you exchange it for a JAPAN RAIL PASS:
Persons meeting condition (a) must provide written proof of the following:
*Right of permanent residence
*That they are living in a country other than Japan
Persons meeting condition (b) must provide written proof of the following:
*That they are living in a country other than Japan
*That they are married to a foreign national
*That their spouse (a foreign national) is living outside Japan
Please note that if an applicant is unable to provide written proof that he or she meets condition (a) or (b) and Japan Holidays is unable to verify compliance using electronic data or other means, the JAPAN RAIL PASS may be denied. *A foreign passport is not considered evidence of the right of permanent residence and is not sufficient documentation to receive the JAPAN RAIL PASS. *Only applicants who have entered Japan by means of a short-term visa on a foreign passport are able to receive a JAPAN RAIL PASS.
Seat Reservations
Shinkansen (not valid for Nozomi and Mizuho), limited express and ordinary express trains have reserved Green Car seats and both reserved and non-reserved Ordinary Car seats. To use a reserved seat, you must obtain a reserved-seat ticket before boarding.
To reserve a seat, visit any a Travel Service Center or a Reservation Office (Midori-no-madoguchi) at a JR station and present your PASS. No additional reservation fee is required.
Note:
The number of seats are limited,  so it is recommended to make your reservation early especially during crowded holiday periods.
If no reserved seat is available, you may be asked to use the non-reserved seats.
A non-reserved seat can be used simply by showing your PASS.
Do not use an automatic ticket-reading gate with a JAPAN RAIL PASS or a reserved-seat ticket. Please show the PASS at a manned ticket gate.
Cancelation / Refunds
Refunds can be made for Exchange Orders that are not redeemed and are within one year of issuance. Refund for Exchange Order can only be done at the office where it was purchased (Japan Holidays) and cannot be done at JR stations and offices. Please be aware that a cancelation fee of $100 will be applied on every unused pass coupons returned within one year from the date of issue. Please note that refunds cannot be made once Exchange Orders have already been exchanged for the PASS and / or you have already used the PASS.
Once the PASS has been used, no refund or extension of the valid period can be made in the case of train non-operation, delay, or the like. No refund will be made for transportation, accommodation, or other fees incurred as a result of train schedule changes.
Reissue
Reissue fee will be applied if there are any changes to be made due to clients' change of mind or any mistakes made due to giving us the incorrect or insufficient details, including misspelling of name and not advising full names.
Should you advise us such information and ask for correction after 17:00(EST) of the order date, reissue fee plus any fare difference will be applied.
*In case the fare as of the date of reissue is cheaper than the fare of the original issue date, the fare difference will not be refunded.
Cancelation / Reissue Fee
JR Pass
Ordinary & Green
$100
JR West
Sanyo 4 & 8 days
$100
Kansai (1, 2, 3, 4 days)
$10
Kansai wide
$10
JR Sannyo-Shikoku-Kyushu
$100
All Shikoku
All Shikoku (2, 3, 4, 5 days)
$10
Kyushu
Kyushu 3 & 5 days
$100
Northern Kyushu
$10
Hokkaido
Ordinary & Green
$100
Flexi
$100
Other
JAPAN RAIL PASS holders must carry their passport during travel and be prepared to present it for identification if required.
Neither an Exchange Order nor a JAPAN RAIL PASS can be reissued if lost, stolen, soiled, or otherwise rendered unusable.
The JAPAN RAIL PASS is non-transferrable. Only the person whose name is on the pass may use it.