WAY OF THE EMPERORS |  18 Nights
Voyage Dates: 29th March 2019 | Seven Seas Mariner
Regent Seven Seas Cruises (RSSC) offers luxury cruises which visit over 300 ports worldwide.
Regent Seven Seas specializes in ships with small passenger capacity and many included amenities.
While many mainstream cruise lines price the cruising experience to some extent a la carte, Regent Seven Seas bills its cruises as "the most all-inclusive"with fares including most alcoholic beverages onboard ship and most shore excursions in ports of call, as well as all gratuities that would normally be paid to hotel staff on the ship.
The Ship – Seven Seas Mariner
In an era when mass-market cruise ships are getting bigger and bigger, Seven Seas Mariner is a refreshing option that carries only 700 passengers, making for a beautifully intimate sailing with personally tailored service and gorgeous public spaces.
Mariner underwent a major refurbishment in 2014 that updated the lounges and restaurants, as well as the high-end cruise suites.
The result is a sleek, modern look throughout the ship — heavy on polish and marble, yet still warm and comfortable.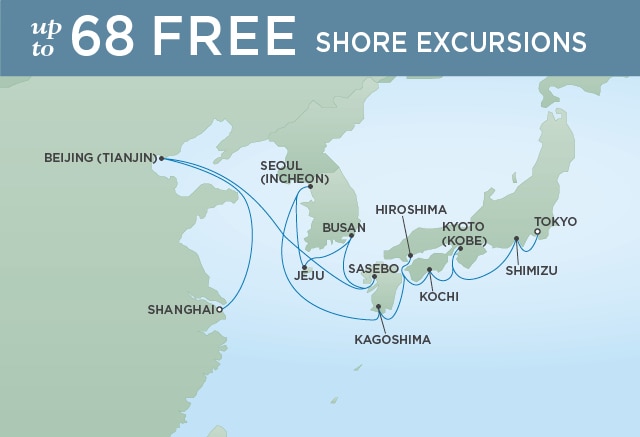 Cruise to Japan in 2019 with Regent Seven Seas Cruises
After more Japan Tours?

Japan Holidays offers a wide range of Japan Tours – just ask!
Please call + 61 2 6674 4185